Professional Teeth Whitening
Professional Teeth Whitening Services in Winthrop and Waterville, ME
Brighter Smiles for a Brighter You
Your teeth naturally become discolored over time. What we eat and drink, along with several other factors, can contribute to teeth appearing yellow and dull. One of the most common requests we receive from our patients is for a professional teeth whitening solution. Our cosmetic dentists will work with you to design a customized dental whitening program tailored to brighten your teeth and unique smile. Contact our offices in Waterville and Winthrop, ME to discover how our cosmetic dentists can whiten your smile.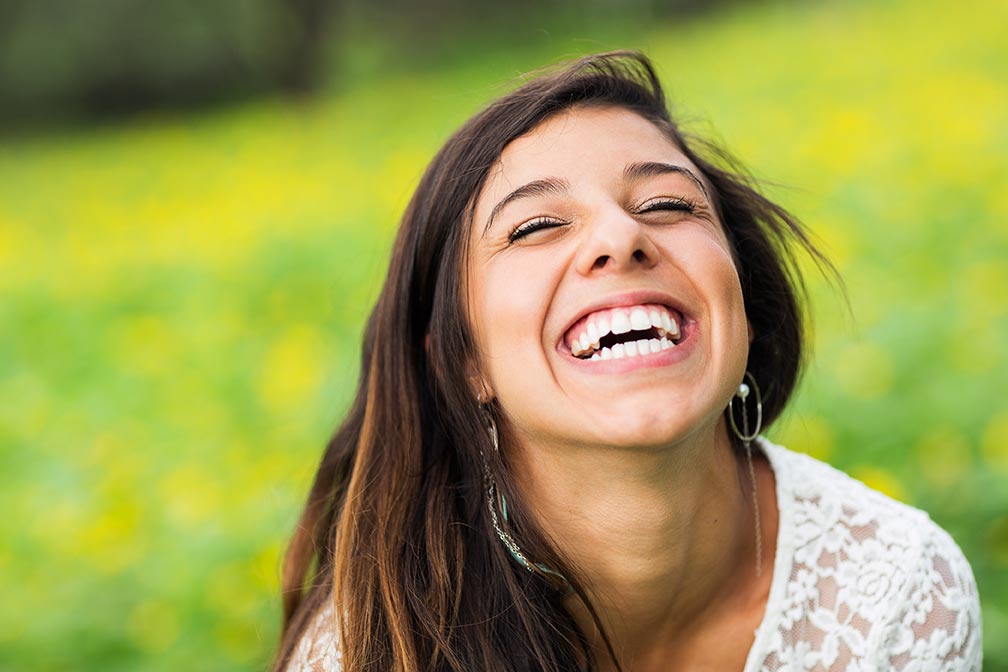 Smile Solutions of Maine is the Best
At Smile Solutions of Maine, our cosmetic dentists take the time to discover what makes your smile unique and how we can help improve it. We utilize the latest techniques and cutting-edge technology to provide you with the best professional teeth whitening treatment in Maine. Our dentists will also take the time to educate you on how to help ensure your teeth stay whiter after the teeth bleaching is complete.
Customized Teeth Whitening Trays
Our most popular dental whitening solution is the at-home tray. During your professional teeth whitening appointment, our cosmetic dentist will record the initial shade of your teeth first. We will then continue with impressions to create thin, custom trays that fit over your teeth. These plastic trays are a one set fee, and you can store them in a plastic container that our office will provide for any future applications.
Small quantities of whitening gel are then placed within the tray. The whitening gel comes in plastic tubes of varying strengths. They can last a long time. These teeth bleaching gels can also be applied with at strengths, depending on your sensitivity level.  The advantage of these customized trays is that you can store them and use them again at a later time, like before a wedding or school pictures.
After your initial visit, we will schedule appointments at two-week intervals to check the progress of your teeth bleaching and increase the strength as needed.
Is teeth whitening bad for your teeth?
Teeth bleaching does not hurt the enamel of the teeth. However, some patients have sensitive teeth, and whitening at higher strengths can intensify sensitivity. For this reason, we start with the lowest strength of whitening gel for short periods of time to ensure our patients are comfortable. This is a safe technique, and we can always increase the whitening strength depending on your comfort level.
How long will your teeth whitening last?
How long your professional teeth whiting lasts will depend on a variety of factors. Are you a smoker? Do you drink red wine, tea, or coffee every day? Do you have a dry mouth? Your dental whitening will not last forever, which is why we create custom trays that you can use as you wish. Some patients will have results that last for a few weeks to months at a time depending on their diet and how meticulous they are in brushing and flossing regularly.
Our Ultimate Aesthetics Teeth Whitening Option
Our cosmetic dentist can also provide you with our "Renamel Composite Technique" option. Some patients cannot achieve the ultimate white smile they desire unless we do direct composite veneers. These ultimate aesthetics are not only reliable, but can strengthen your teeth at the same time. Our professional teeth whitening procedure requires very minimal tooth preparation and, we usually only need to roughen the enamel prior to adding this composite material. These are very different than the porcelain veneers you might be used to receiving.
We usually recommend the teeth whitening process to patients who already have worn or chipped teeth and would like to restore the tooth structure that has deteriorated over the years. It's very different than a crown preparation and preserves the natural tooth structure. This technique requires time, skill, and passion. Our cosmetic dentists are very happy to go over this option with you in more detail during your initial consultation appointment.
Ready to Brighten Your Smile?
Smile Solutions of Maine has over 40 years of experience in providing professional teeth whitening solutions that can drastically brighten your teeth. You deserve a more natural-looking, whiter smile. Schedule your dental whitening consultation with one of our conveniently located offices in Winthrop or Waterville, ME to learn more about how we can enhance your smile.