Dental Exams and Cleanings
Professional Teeth Cleanings & Dental Exams
Proudly Providing the Communities of Waterville and Winthrop with Professional Dentistry Services
Each person's smile is unique to them. It is one of our most defining features. Shouldn't your dental treatment plan be as unique as your smile? At Smile Solutions of Maine, our goal is to keep your smile healthy while providing personalized care for your smile. During your dental exam, our team will take the time to educate you on the best ways to care for your distinct smile. This includes providing different options for affordable dental cleanings and treatments. With two convenient locations in Waterville and Winthrop, ME, you can rest assured that your smile is in good hands. Contact us today and find out what our dentists can do for you.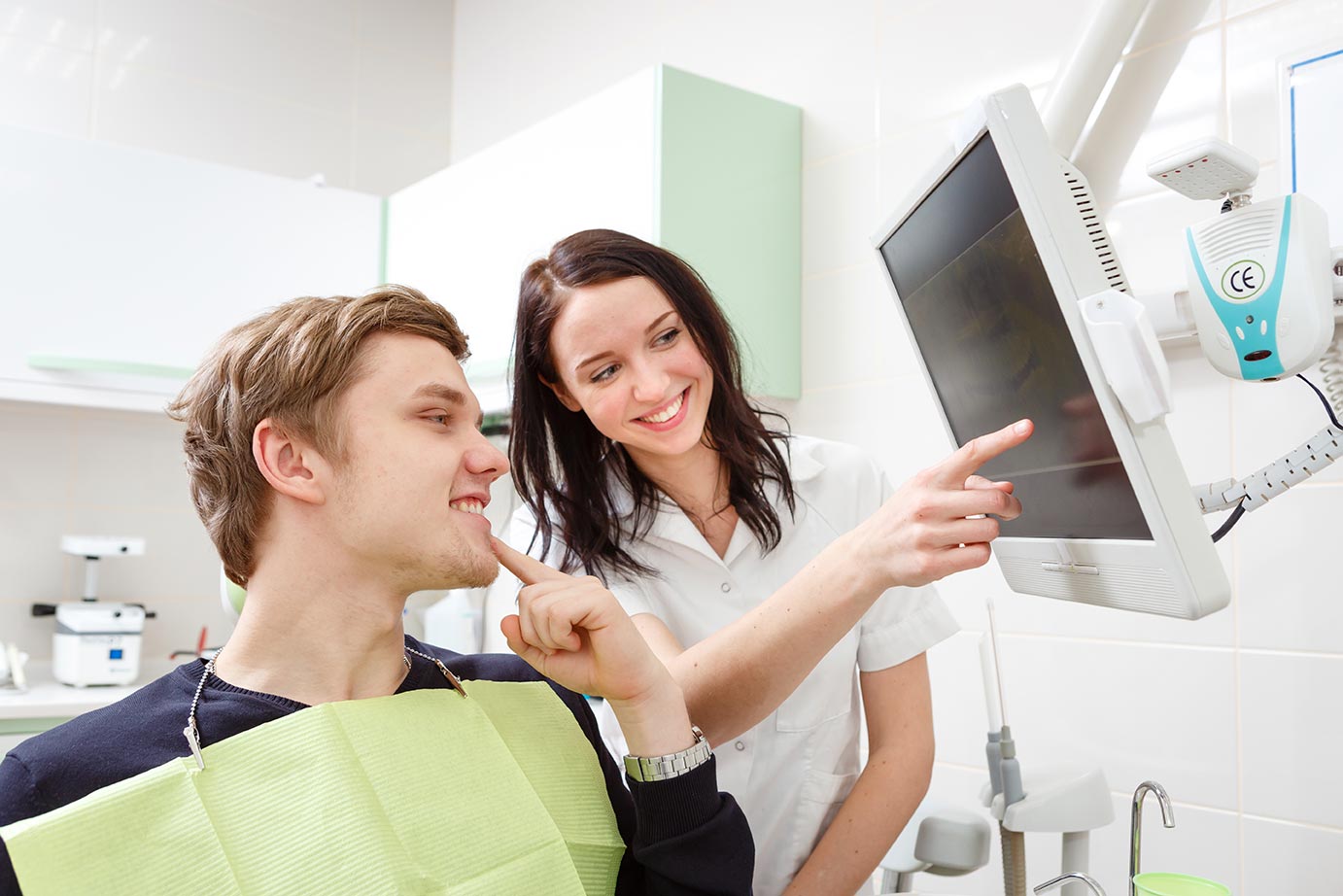 Why are Regular Teeth Cleanings and Dental Exams Necessary?
Our offices in Winthrop and Waterville, ME takes dental exams & cleanings very seriously. These checkups help our dentists to protect the longevity of your smile. Your dental exam provides our dentists with an opportunity to identify any early potential issues with your oral health, making them easier to fix. Teeth cleanings also allow us to remove plaque and tartar buildup, which at-home solutions cannot remove. This buildup, if left untreated, can cause your teeth to decay and create serious dental problems.
Dental cleanings also help to ensure a healthy bone and gum substructure. Unhealthy red gums (gingivitis) or more severe gum issues with bone loss (periodontal disease) will eventually lead to gum recession, which in turn will expose the margins of crowns or even the root structure of teeth. These problems with your gums can cause issues, such as:
Increased Sensitivity
Higher Risk for Cavities
Tooth Loss
You can have a lovely smile, but if your gums are red, inflamed or bleeding, that will take away from the natural beauty of your teeth. During your teeth cleaning, our dentists use specialized tools to remove plaque and tarter buildup under your gums that at-home dental care solutions cannot remove. This in turn helps to keep your gums healthy.
Smile Solutions of Maine, a Whole-Health Dental Practice
Smile Solution of Maine believes in a whole-health approach to dentistry. During dental exams, we don't just look at the health of teeth, gums and general aesthetics, but at the overall health of your mouth. Oral health can be connected to chronic disease. So, we review our patients' health histories and help them with possible issues to which they may be predisposed, such as diabetes or high blood pressure. We then offer advice on how dental intervention can improve these conditions.
Your Dental Exam Comes First
At Smile Solutions of Maine, your dental exam is everything. We purposely don't preschedule patients for a cleaning prior to their complete examination. We allow your dental exam to dictate how to treat and maintain your smile. In certain cases, if you visited our office for an exam and had a painful tooth, we would take care of your pain first and reschedule the complete exam.  Our philosophy is not to have a patient leave our office without getting them out of pain or referred to the appropriate specialist.
During your initial dental exam, our goal is to meet you and find out what your needs are. The initial exam takes about an hour and features a full mouth series of radiographs to diagnose if there are any infections or cavities. We will also work to diagnose the health of the underlying bone which supports each tooth. Most of our patients are impressed by how thorough and painless our complete exams are. We understand that the initial visit can be stressful for some patients; however, we treat patients like we would treat our own family. Our goal is to educate you, take pictures with our intra-oral camera, and create a personalized treatment plan that includes different, economical options that suit your individual situation.
Teeth Cleaning Services in Waterville and Winthrop, ME
After your initial dental exam with our expertly-trained hygienists, we will schedule you for a teeth cleaning. Some patients will need regular dental cleanings every 6 months, and others every 3-4 months. This will all depend on the health of your gums, whether bone loss is a problem, whether there is recession of your gums, and on the mobility of your teeth. During your teeth cleaning, our hygienists and dentists will clean your teeth using specialized dental tools to remove plaque and tartar buildup. We will also professionally floss in-between and around your teeth to help keep your gums healthy.
Will Teeth Cleanings Make Your Teeth Whiter?
Dental cleaning won't directly make teeth whiter, but they can remove stains caused by things like coffee, wine, cigarette, and tea with a soft polisher towards the end of your teeth cleaning. This can create the appearance of whiter teeth. Our hygienists will take the time to discuss ways to maintain stain-free surfaces on your teeth in-between your teeth cleaning sessions.
Biomimetic Dentistry is the Way of the Future
At Smile Solutions of Maine, our dentists practice biomimetic dentistry. What this means is Bio: Life-Like and Mimetic: copy. This approach is a form of restoring chipped and broken teeth to their original look and shape. The idea is to copy nature as perfectly as possible by layering our composite material and incorporating our tints, and opaques in order to create opacity where it's necessary or translucency. Teeth are never monochromatic but rather have character that is unique for each patient.
Ready to Keep Your Teeth Pristine?
With over 40 years of experience in providing dental exams and teeth cleanings, you can rest easy knowing your smile is in our care. Our team of dental professionals will take the time to provide you with a customized plan to keep your smile healthy and defend its longevity. Contact one of our two conveniently located offices in Waterville and Winthrop, ME to learn more about how we can help your smile continue to be one of your best features.