Family Dentistry for Central Maine
Dental Care for the Individual
Maintaining your dental health is important at every age! Please schedule regular appointments for preventative care. We look forward to your visit at least twice a year for a cleaning, exam, and x-rays.
In addition to routine dentistry, Smile Solutions of Maine offers a full-range of specialized dental services in both of our offices. We use progressive dental technology to develop individualized treatment plans and personalized service. The outstanding clinical care Smile Solutions provides will help you achieve optimal oral health.
Dentures 
Affordable Solutions for Replacing Missing Teeth that Look and Feel Great
Dental dentures can be a wonderful and affordable option for replacing the gaps in your smile. Smile Solutions of Maine takes pride in our ability to provide patients with the best fitting, beautiful dentures possible in Winthrop and Waterville, ME. Schedule a consultation by calling one of our offices in Winthrop (207-377-6958) Waterville (207-837-2073) or contact us online and discover how dentures can improve your quality of life today!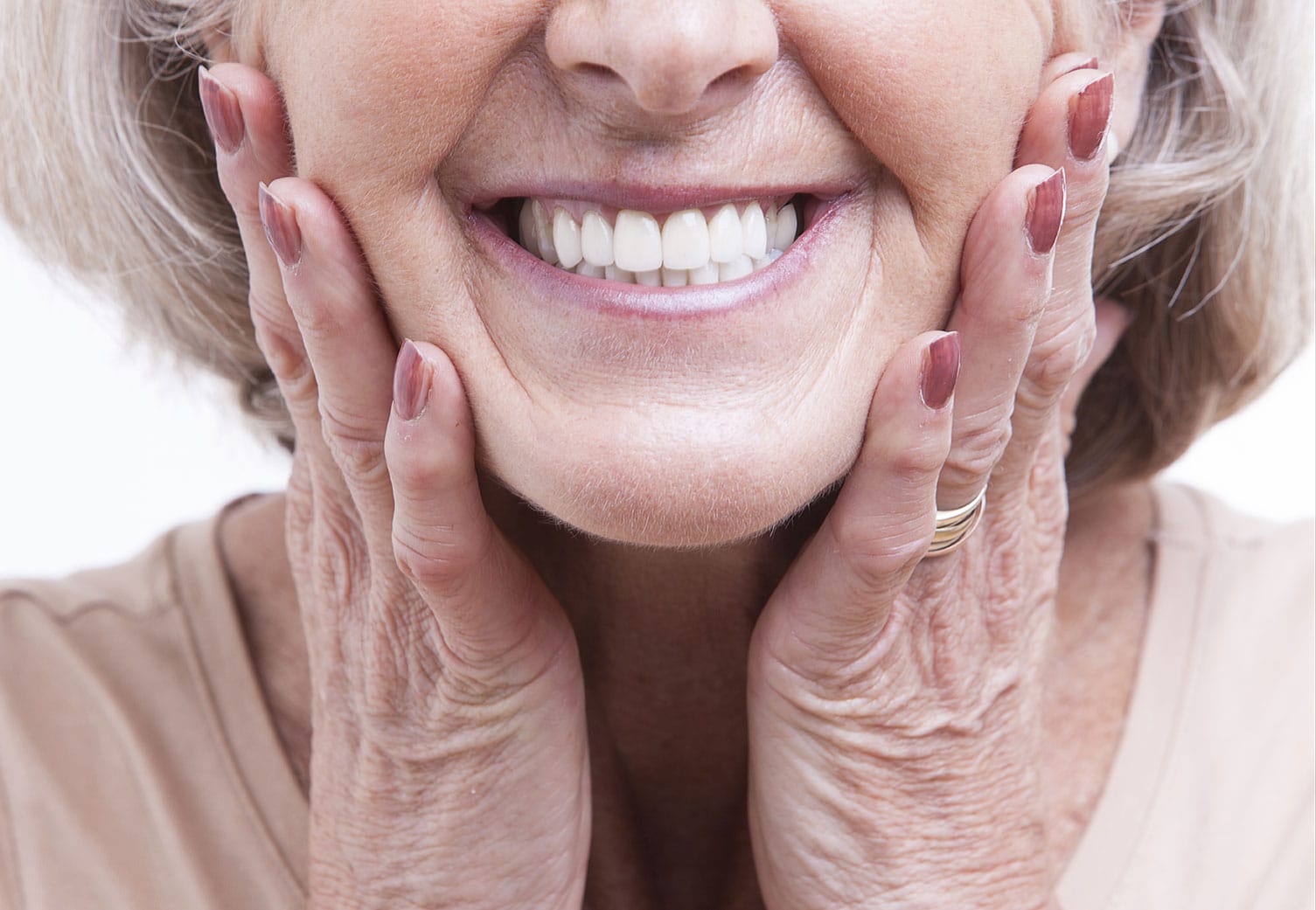 What are Dental Dentures? 
Dentures are common, removable replacements for missing teeth. 41 million Americans use them in fact. They are custom-made to fit comfortably in a framework that rests on your gums. There is really nothing that is better than healthy natural teeth, but in circumstances where things are unhealthy and not restorable, dentures can be a suitable alternative. They are often used to:  
Replace missing teeth due to aging, decay, or damage from trauma

 

Replace missing teeth from advance periodontal disease

 

Prevent the gaps in your smile from shifting your teeth

 
The 
Advantages
 of Dentures
Dentures are a great dental prosthetic option for patients. They provide a whole range of benefits including:  
They are a cost-effective

 way to replace several missing teeth or complete edentulism (missing all teeth)

 

They

 are a 

natural looking way to recreate a patient's smile

 

They 

restore function for chewing

 and improved digestion

 

They

 can lead to 

improve

d

 speech

 

They create a

 more youthful appearance 

 
The Process 
Most of our dentures take two appointments to complete. During your initial consultation, our dentists will assess the individual needs of your unique smile and the makeup of your jaw. They will then take the time to discuss with your options for dental dentures and other prosthetics that are right for your individual situation. We will then take measurements to be sent to a professional lab who will expertly craft your final dentures. Once your final prosthetic is ready, you'll return to one of our offices in Waterville or Winthrop for a try in appointment. We'll make sure that that you like the feel and look of your dentures. Over time these prosthetics will need to be re-evaluated due to ongoing changes in gum and bone structure. 
Sometimes two sets of dentures will be the answer. The first goes in the same day the teeth are taken out (immediate dentures) and the second set is made once proper healing takes place.  
Smile Solution of Maine's Denture
 Solutions
The denture specialists are Smile Solutions Maine in Winthrop and Waterville take the time to do things right, which reflects in the accuracy, fit, and satisfaction our patients experience from our dentures. One thing we always try to do is utilize photos of a patient when they had healthy teeth to show our lab how to recreate a natural, but beautiful smile. At Smile Solutions of Maine, our offices in Waterville and Winthrop offer four different options:  
Upper and Lower Complete Dentures 
Complete dentures offer full coverage to replace all your teeth on your upper and/or lower jaw. These dentures are horseshoe shaped to allow your tongue to rest comfortably. These dental dentures stay in place thanks to a close fit with your underlying gums, bone tissue, and a layer of saliva between your gums and the prosthetic.  
Immediate Dentures
In certain circumstances, immediate dentures can be fabricated ahead of having teeth pulled and can be inserted the same day the teeth come out. Our dentists however, recommend using this type of dentures only as a replacement for missing teeth when waiting for your lab-fabricated dentures as those tend to be more accurate.  
Partial Dentures
Partial dentures replace intermittent gaps in your smile. These dental dentures rely on your natural teeth to support or hold them in place.  
Implant or Natural Root Supported Overdentures
Overdentures tend offer the best fit, retention, and patient satisfaction, having an anchoring system that connect on to natural teeth or implants that have a snap on mechanism. For this reason, most of our patients prefer these dentures over our other options.  
Insurance Makes Dentures Affordable
Dental insurances will usually pay a certain percentage of your dental dentures. Some insurances will even cover them entirely. Our team will work with you to make sure that you are maximizing the benefits of your insurance plan. We also are affiliated with CareCredit, which can provide payment plans if needed.   
Ready to Smile with Confidence Again? 
Smile Solutions of Maine has over four decades of experience in crafting beautiful dental prosthetics. We know how important effectively replacing missing teeth is not only for your oral health, but also your overall appearance. That's why our dentists take the time to craft the perfect denture solution that is right for your smile. Schedule your appointment with our offices in Waterville (207-837-2073) or Winthrop (207-377-6958) today!  
Digital X-Rays
Dental x-rays are an essential tool that help us see areas of your teeth, mouth, and jaw that would be otherwise impossible to view with the naked eye. The knowledge gained from x-rays can be invaluable to your health. In our office, we use digital dental x-rays systems that are more sensitive than older dental x-ray film systems, so your exposure to radiation is cut by as much as 50 percent. These digital films allow enlargement for your viewing and for improved diagnosis. Records are easily transferred to other doctors.
Fluoride Treatment
Fluoride therapy is utilized in children and adults as a dental decay preventive. This in combination with other approaches that will enhance your dental health.
Porcelain Veneers
Dazzle Everyone You Meet with a Truly Stunning Smile
Dental veneers are a fantastic option for people that want a minimally invasive, long-lasting solution to their cosmetic dental problems. You'll be amazed at how drastically this cosmetic dentistry solution can transform your smile. Call one of Smile Solutions of Maine's offices in Winthrop or Waterville Maine or contact us online to schedule your consultation today!
Here's the Basics
Dental Veneers are custom-made, ultra-thin, porcelain shells that are bonded to the front surfaces of your teeth. They are durable and can be made to match the existing color of your teeth, or they can be made a whiter, brighter shade than your natural teeth. Veneers are a great way to correct crooked, cracked, discolored, and misshapen teeth for a vastly improved smile. Our dentists at our offices in Waterville and Winthrop, ME make sure that they match the rest of your teeth character, shape, and shade.
Our dentists will recommend veneers to:
Minimally correct the size of a tooth or lengthen worn teeth
Fix minimal wear on your teeth
Repair enamel discrepancies which causes dark teeth or tetracycline staining
Close spaces between teeth which at times requires very minimal roughening of the tooth surface
Help balance forces on teeth by putting back what has been lost due to wear
Are Veneers Permanent?
Once veneers get bonded to the natural tooth structure they become permanent. Dental veneers get bonded to enamel, which means their bond is even stronger to regular full coverage crowns. The only way to remove them is to actually cut them off with a high-speed hand-piece.
Will Veneers Ruin Your Teeth?
Just the opposite actually; veneers are designed to protect your teeth. Our dentist place veneers to replace the natural tooth structure that you have lost and protect the remaining enamel. They are very conservative and require very minimal removal of tooth structure. For instance, a crown preparation requires about 1.5mm to 2mm of tooth structure removal, where as a veneer only requires 0.3mm to 0.6mm.
You'll be Amazed at the Benefits that Veneers Offer
Veneers are an amazing cosmetic option to strengthen and enhance your smile. The major advantages of veneers are that they:
Require very conservative removal of your tooth's structure
Are very esthetic
Are long lasting
Don't stain
Require no metal substructure underneath.
Are bonded which means they strengthen and protect teeth from cracking.
Are very natural
Do not create sensitivity issues because they do not involve the dentin but only get bonded to enamel
Interested in finding out more? Chat with one of our dentists about it today!
Our Process for Crafting Personalized Veneers for Your Smile
Each case is unique and teeth are sculptured to match our patient's personality and facial characteristics. We offer a variety of different types of porcelain veneers depending on the actual location in the mouth, characterization that we are trying to create, and thickness of the material. However, our most common and esthetic option is feldspathic veneers. Our dentists will work with you to find the right type that will strength and enhance your smile.
Typically, the dentists at our Waterville and Winthrop offices will follow this process when applying dental veneers to your smile.
1. Creating the Molds
Initially, we'll take preliminary impressions of the upper and lower arch, along with multiple pictures. We will then spend a time preparing and waxing the length of the tooth for the veneers.
2. Making Sure We Get the Look Just Right
During your second visit, we use a temporary material that goes over your teeth to give you an idea of how your veneers will look. One of the advantages of choosing Smile Solutions of Maine is that we can show our patients exactly what the final esthetic result will look like with a mock up approach without removing any tooth structure. We will take multiple pictures and discuss any concerns you might have and adjust our models accordingly. Once you approve and are happy with the result, only then will we proceed to the actual procedure. You'll have full control of this appointment and it is one of the most rewarding experiences for us and our patients. If you need more time to evaluate your veneers, we can email you your pictures and mockups discuss the esthetics with their family or friends prior to moving forward with the final procedure.
Creating and Applying Your Final Veneers
Once you have approved the look of your veneers, our extremely talented technicians will begin work on creating your beautiful porcelain veneers. Our lab technicians will craft a natural result that will look just like your natural teeth. Once the veneers are ready, our dentists will attach them to your tooth's enamel.
Veneers Really Are Worth It
Dental veneers are one of the best cosmetic procedures we offer.
They preserve the natural tooth structure and require very minimal preparation.
They are very natural so most people will admire your teeth without knowing that it's a veneer.
They help stabilize forces in your mouth by adding material where wear is evident.
They get bonded vs cemented like full coverage crowns. This means that their bond is stronger than crowns and it is extremely rare that they will become loose.
Will give extra strength to thinner teeth and protect them from breaking or chipping.
Ready to Discover How Veneers Can Perfect Your Smile?
Smile Solutions of Maine has over four decades of experience in helping patient's achieve Hollywood level smiles. Contact our offices in Waterville and Winthrop and let's start your journey towards a more beautiful smile!
Custom Sports 
Mouthguard
s
Superior Protection Against a Lifetime of Costly Dental Problems
Mouthguards are worn during recreational, professional, or competitive sports activities – including practice, competitions, and games. Without a mouthguard, you risk chipping, breaking or even losing teeth. We offer custom-made mouthguards that give you a professional level of protection. Our mouthguards are much more effective than the type of mouthguards you can buy over-the-counter in a drug store. We can also make them to match school or team colors! Schedule your appointment today at one of our conveniently located offices in Waterville or Winthrop, ME to better protect your athlete's smile.  
Why Are Athletic 
Mouthguard
s Important?
Athletic mouthguards are a necessity for all sports that involve risk of direct contact or trauma to the mouth from other players, balls, or other objects. They are also used to protect your teeth during high exertion activities such as weight lifting. Sports mouthguards add a layer of protection for both the player, as well as opponents, from direct trauma and inadvertent things that tend to occur during high exertion such as teeth and jaw clenching and accidental tongue or check biting.  
Benefits of Dentist-Made Custom Sports 
Mouthguard
s
The sports mouthguards that we make provide a superior fit compared to a generic, store-bought mouthguard, which tends to lead to higher compliance and protection. One injury can be not only costly, but also potentially cause a patient to endure a lifetime of ongoing dental concerns to the area of trauma. An ounce of protection can protect against a lifetime of dental problems.  
Smile Solution of Maine's Custom Sports 
Mouthguard
s
Our custom sports mouthguards follow a quick and easy process. They are usually completed in two short visits. During the athlete's first appointment, our dentists will take a mold of their teeth that allows our lab technicians to expertly craft a perfect fitting mouthguard. Then during the second visit after your athletic mouthguard is ready, we'll have the patient try it on to ensure a proper fit. We'll also give instructions on how to properly wear and care for their sports mouthguard.  
Cleaning Your Athletic 
Mouthguard
How often you clean your sports mouthguard is ultimately up to your personal preferences. However, depending on how it is stored and kept, athletes may want to consider cleaning it after every use. Our dentists recommend soaking your athletic mouthguard for at least 15 minutes in a mild bleach and water solution (1 tsp. regular household bleach to 1 cup of water) when cleaning it.  
Ready to Better Protect Your Athlete's Teeth? 
Most over-the-counter mouthguards are inadequate and do not provide enough protection. A custom-made sports mouthguard made by the dentist at Smile Solutions of Maine are not only more effective, but also more comfortable to wear. We provide high-quality athletic mouthguards that better protect against oral traumas, concussions, and some facial lacerations. And as an added bonus, we can usually even match your team's or school's colors. Contact one of our offices in Waterville (207-837-2073) or Winthrop (207-377-6958) to get fitted for your sports mouthguard today!  
Professional Teeth Whitening Services in Winthrop and Waterville, ME
Brighter Smiles for a Brighter You
Your teeth naturally become discolored over time. What we eat and drink, along with several other factors, can contribute to teeth appearing yellow and dull. One of the most common requests we receive from our patients is for a professional teeth whitening solution. Our cosmetic dentists will work with you to design a customized dental whitening program tailored to brighten your teeth and unique smile. Contact our offices in Waterville and Winthrop, ME to discover how our cosmetic dentists can whiten your smile.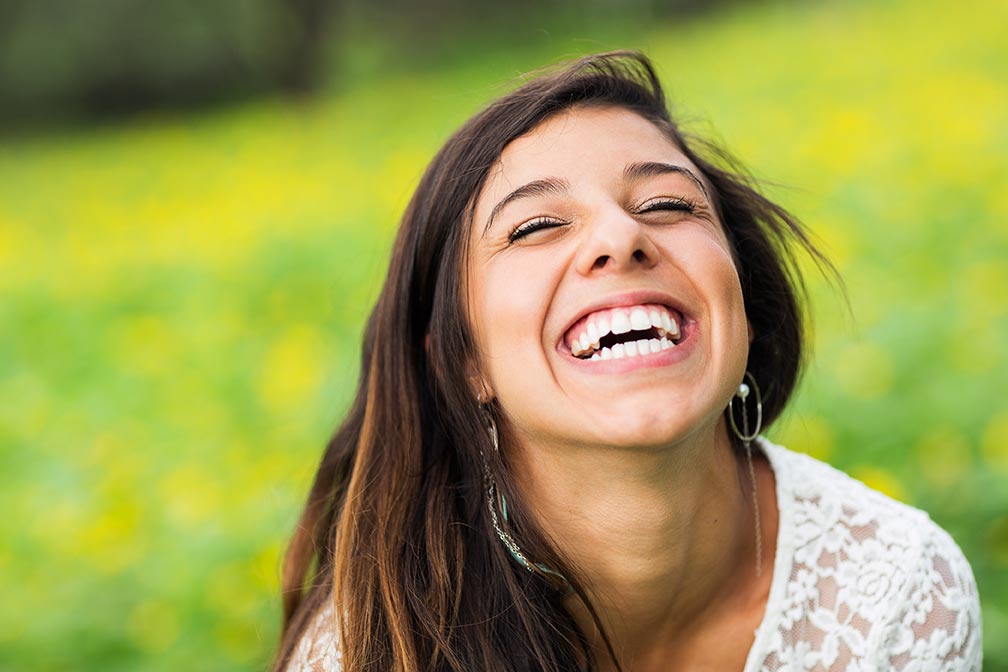 Smile Solutions of Maine is the Best
At Smile Solutions of Maine, our cosmetic dentists take the time to discover what makes your smile unique and how we can help improve it. We utilize the latest techniques and cutting-edge technology to provide you with the best professional teeth whitening treatment in Maine. Our dentists will also take the time to educate you on how to help ensure your teeth stay whiter after the teeth bleaching is complete.
Customized Teeth Whitening Trays
Our most popular dental whitening solution is the at-home tray. During your professional teeth whitening appointment, our cosmetic dentist will record the initial shade of your teeth first. We will then continue with impressions to create thin, custom trays that fit over your teeth. These plastic trays are a one set fee, and you can store them in a plastic container that our office will provide for any future applications.
Small quantities of whitening gel are then placed within the tray. The whitening gel comes in plastic tubes of varying strengths. They can last a long time. These teeth bleaching gels can also be applied with at strengths, depending on your sensitivity level.  The advantage of these customized trays is that you can store them and use them again at a later time, like before a wedding or school pictures.
After your initial visit, we will schedule appointments at two-week intervals to check the progress of your teeth bleaching and increase the strength as needed.
Is teeth whitening bad for your teeth?
Teeth bleaching does not hurt the enamel of the teeth. However, some patients have sensitive teeth, and whitening at higher strengths can intensify sensitivity. For this reason, we start with the lowest strength of whitening gel for short periods of time to ensure our patients are comfortable. This is a safe technique, and we can always increase the whitening strength depending on your comfort level.
How long will your teeth whitening last?
How long your professional teeth whiting lasts will depend on a variety of factors. Are you a smoker? Do you drink red wine, tea, or coffee every day? Do you have a dry mouth? Your dental whitening will not last forever, which is why we create custom trays that you can use as you wish. Some patients will have results that last for a few weeks to months at a time depending on their diet and how meticulous they are in brushing and flossing regularly.
Our Ultimate Aesthetics Teeth Whitening Option
Our cosmetic dentist can also provide you with our "Renamel Composite Technique" option. Some patients cannot achieve the ultimate white smile they desire unless we do direct composite veneers. These ultimate aesthetics are not only reliable, but can strengthen your teeth at the same time. Our professional teeth whitening procedure requires very minimal tooth preparation and, we usually only need to roughen the enamel prior to adding this composite material. These are very different than the porcelain veneers you might be used to receiving.
We usually recommend the teeth whitening process to patients who already have worn or chipped teeth and would like to restore the tooth structure that has deteriorated over the years. It's very different than a crown preparation and preserves the natural tooth structure. This technique requires time, skill, and passion. Our cosmetic dentists are very happy to go over this option with you in more detail during your initial consultation appointment.
Ready to Brighten Your Smile?
Smile Solutions of Maine has over 40 years of experience in providing professional teeth whitening solutions that can drastically brighten your teeth. You deserve a more natural-looking, whiter smile. Schedule your dental whitening consultation with one of our conveniently located offices in Winthrop or Waterville, ME to learn more about how we can enhance your smile.
Tooth-Colored Fillings
Say goodbye to silver fillings… a more attractive material is now available! If you need a filling, our doctors will offer to use a composite material that matches the shade of your tooth. There are many benefits to white fillings besides being more attractive. Not only do tooth-colored fillings look more natural, but they result in less tooth sensitivity, they are free of metal, and they are strong. We feel this material is an excellent alternative to traditional silver fillings.
TMJ Treatment in Waterville and Winthrop, ME
Functional and Esthetic Solutions to Your TMD Pain
Jaw pain, problems chewing, misaligned teeth, and toothaches are all common TMD symptoms and signs that you should schedule a visit with our dentists. If left untreated, your teeth and jaw could deteriorate and lead to more serious problems. At Smile Solutions of Maine, our TMJ dentists are extensively trained and provide long-term results. Our thorough exams will find the source of discomfort and then we'll create a targeted TMJ treatment plan customized to your unique situation. Call our offices in Waterville (207 873-2073) or Winthrop (207 377-6958) or contact us online to set up your consultation today! 
What is TMJ
 / TMD
A Temporomandibular Joint (TMJ) is the joint that connects the lower jaw to the skull. It allows for the opening and closing of the mouth. This is the most used joint in the entire body, and it affects your teeth and gums, and your ability to talk, chew, and swallow. Temporomandibular Disorder (TMD) occurs when the lower jaw is not in the proper position relative to the upper jaw.  
What Causes 
Temporomandibular Disorder
:
TMD can be caused by a variety of factors including:  
Moderate wear of posterior teeth

Clenching and grinding of the teeth

 

Non-stable contacts between the upper and lower teeth

 

Placing final restorations without proper planning can start a TMD issue even if the joint was stable before

 

Sport and car accidents

 

Genetic causes

 

Anterior open bite

 
The 
Risks of Leaving TMD / TMJ
 Problems
 Untreated
If you ignore TMD and prolong your TMJ treatments, your symptoms may start to worsen and you could experience:   
Increased 

t

eeth sensitivity to hot and cold 

temperature

s

 

 

Multiple visible cracks which can cause the tooth to split in half

 

Existing restorations including crowns, esthetic work, white and silver restorations, implant crowns and bridges will wear or even shows signs of porcelain fracture

 

Recession of the gum will become evident between the tooth and tissue

 

Teeth will eventually become loose due to the bone loss

 

Periodontal issues will continue to worsen over time due to the attachment and bone loss

 

Migration of teeth out of position, and spaces between teeth

 

Unpredictable outcomes upon delivery of our permanent restorations

 

Degenerative issues of the disk when opening and closing our jaw and locking of the jaw

 
Say Goodbye to TMD
During the early stages, over 90% of TMD pain and dysfunction problems can be solved. TMD can be caused by a variety of factors and the earlier we are able to start your TMJ treatments, the more predictably it can be corrected. Ultimately, there is no guaranteed time frame for when a patient will feel relief after they start their TMD treatment, but many times, depending on at what stage someone is in, we can alleviate their symptoms.  
Our TMJ Treatments
 in Waterville and Winthrop
In our practice every dental exam includes careful examination of the temporomandibular joint (TMJ). Only then can we create a predictable plan for our patient's needs. The most important stage is to recognize what system of the TMJ needs treatment. Is it the disc within the joint that needs to be repaired, the muscles, or the teeth? All these components need to be in harmony and there are ways we can check this. It is also extremely important not to continue with permanent restorations such as crowns, bridges, implant crowns, or esthetic work unless the joint is repaired and stable first. 
If symptoms arise, we have the ability to reverse them if caught at an early stage. The best TMJ treatment is to maintain proper and balanced forces on each tooth. Balancing how each tooth comes in contact with the opposing teeth can prevent the rise of symptoms such as clicking, locking of the jaws and degenerative issues that can become irreversible. Our TMD treatments include splint therapy to help the joint recover after trauma such as a car accident, and sport accidents, equilibration of the teeth so they hit in a balanced manner, building up the worn teeth, and custom-made night guards.  
Custom made mouth guards for TMJ can relieve symptoms immediately if the issue is muscular. Sometime patients will require specialized night guards to be adjusted frequently in order to create a "peaceful neuromuscular system."  
Our TMJ Dentists Are Extensively Trained
Our doctors have completed the Dawson Academy curriculum which takes a few years to complete. During this program, some of the points covered include treating TMJ symptoms, clicking of the joint and headaches, uneven forces on teeth which can be the causes of temperature sensitivity, visible cracks and moderate wear of the enamel. 
Ready to Alleviate Your Discomfort? 
Smile Solutions of Maine has over 40 years of experience in creating specially targeted TMJ treatment plans that are functional and esthetic. Our TMJ dentists are here to help using cutting-edge technologies and the latest TMD treatment techniques. Contact one of our two conveniently located offices in Waterville and Winthrop, ME to start treating your discomfort and pain.