Professional Dental Implants in Waterville & Winthrop, ME
Smile with Confidence Again
If you need to replace a tooth, then dental implants are a great first step towards restoring your smile. Our tooth implants provide you with a foundation for replacement teeth that look, feel, and function like your natural teeth. The dental implant specialists at Smile Solutions of Maine in Winthrop and Waterville combine their years of experience with the latest techniques and technologies. Find out how we can help improve your smile by contacting us online or calling our office in Waterville at 207-873-2073 or Winthrop at 207-377-6958 today.
What Are Dental Implants?
Implants are a very effective and predictable way to replace teeth. Dental implants are simply metal, screw-like artificial tooth roots that provide a foundation for replacement teeth. They are surgically fused to your jawbone to better support your new artificial tooth.
The Benefits of Dental Implants
Dental implants have a number of advantages compared to other tooth replacement options including:
Look and Feel Like Your Natural Teeth
Improved Speech
More Comfortable Than Removable Replacement Teeth
Long-Lasting
Easier to Eat and Chew
Improved Self-Esteem
Don't Damage Nearby Teeth
Stimulates Bone Growth and Prevents Bone Loss
High Success Rate
Dental implants also have the added benefit of preserving bone, and can also be effective in helping retain dentures more predictably.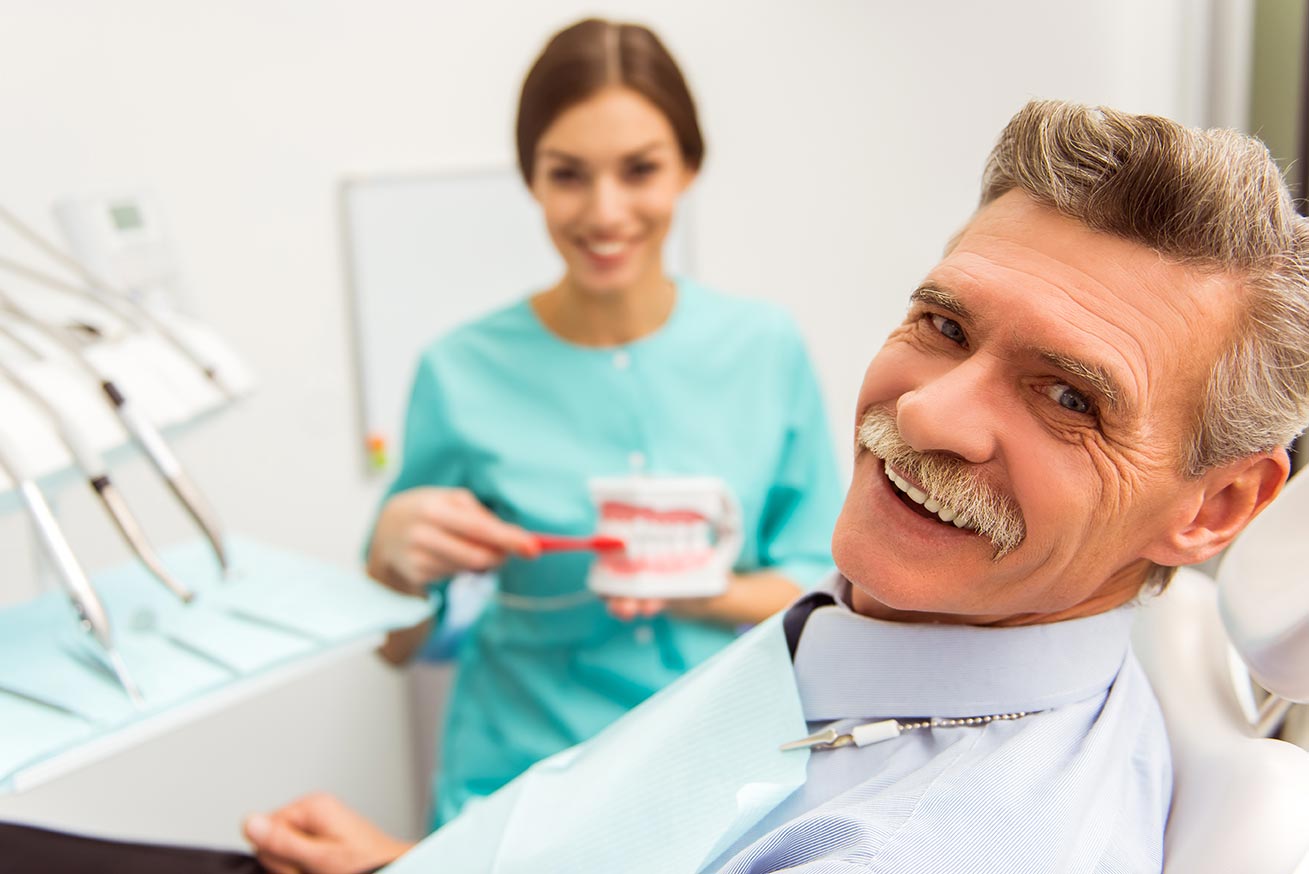 Our Dental Implant Procedures in Waterville & Winthrop, ME
The first thing our dental implant specialists in Waterville and Winthrop, ME will do is to develop a customized treatment plan with you. One of the many advantages of having Smile Solutions of Maine perform your implant surgery is our in-office cone-beam CBCT machine, which takes 3-D images of the bone for more accurate results. The entire process, from the implant surgery through to the restorative phase of treatment, is all done in the same office and, in most cases, there is no need to see other specialists.
The Process for Implants
The procedure itself to surgically place the tooth implant takes a few hours or less. The average duration of the implant procedure is about an hour and a half, start to finish. During the procedure, our dental implant surgeon will remove the damaged tooth. They will then surgically apply the metal screw-like implants to your jawbone. A temporary tooth replacement is than placed on top of the implant as it heals.
Our dental implant surgeons will then allow the implant and jawbone to heal together in a process called osseointegration. This can take upwards 4-5 months, plus additional time if a bone graft is necessary prior to implant placement.
Once the tooth implant has finished healing, our dental implant specialists will then craft a customized tooth replacement. The permanent tooth restoration is than expertly applied to the dental implant, giving you a natural-looking smile.
Is the Dental Implant Procedure Painful?
All of our implants are placed using just local anesthetic. Most of our implant patients tell us that there is very little to almost no discomfort during the procedure, as well as afterwards.
How Much Do Dental Implants Cost?
The costs of your dental implant procedure will depend on the final restoration that will be attached to the implant (i.e. a single tooth crown, a bridge with multiple implants or dentures that will snap onto several implants). Most insurances will cover a portion of the cost.
How Long Can Tooth Implants Last?
Tooth implants can last for the remainder of your life. Factors that affect longevity include things like smoking, diabetes, poor bone quality, and excessive forces from habits such as clenching and grinding of teeth.
Ready to Repair Your Smile?
You deserve a long-lasting and natural-looking smile. The dental implant specialists at Smile Solutions of Maine in Winthrop and Waterville, ME are ready to give it to you. By using advanced technologies, the latest techniques, and thanks to years of experience, we work to ensure our patients rest easy knowing that our dental implant surgeons will craft you a beautiful smile. Find out how we can repair your smile by contacting us online or calling our office in Waterville at 207-873-2073 or Winthrop at 207-377-6958 today.