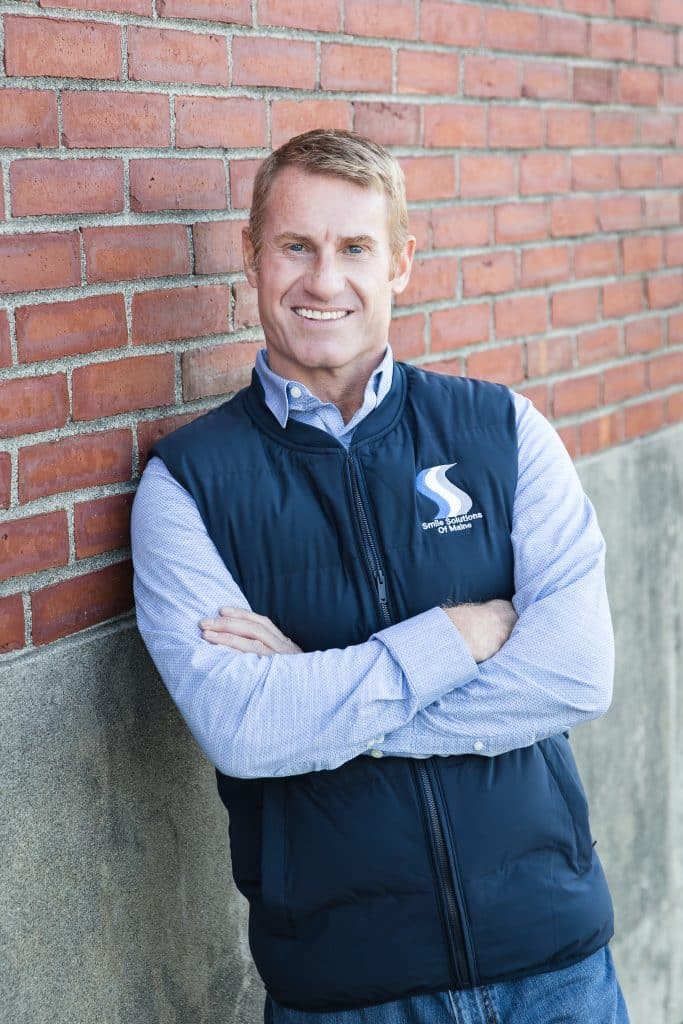 Jay Wietecha, DDS, MAGD
Dr. Jay R. Wietecha grew up in a suburb outside of Chicago, Illinois. He chose to become a dentist at a very young age and spent some time after high school working in a friend's father's orthodontic practice. In 1996, Dr. Wietecha graduated from the University of San Diego with a major in biology. After enjoying a gap year in Colorado, Dr. Wietecha began his four years at Tufts School of Dental Medicine. While Jay was in dental school, he spent a summer teaching water skiing at camp Vega in Kents Hill where he began to develop a respect for Maine's recreation, especially in Central Maine. Before graduating in 2001, he entered a five-week externship at the Veterans Association Hospital in Togus, Maine. In August of that same year, Dr. Wietecha was asked to be an associate at Dr. Laliberte's practice, and in July of 2003 the two joined in a partnership. More locally, he has been the Secretary/Treasurer of the Kennebec Valley Dental Society, which is a regional component of the Maine Dental Association. He has served on the board of the Maine Academy of General Dentistry (AGD) as editor for their publication, The Pine Tree General Practitioner, and he also held other positions such as President and Vice President. Dr. Wietecha and his younger partner, Dr. Joe Dumont, are the current co-chairs for continuing education for the Maine AGD. Together they promote and organize several top-quality continuing education courses each year throughout the state. Along with Dr. Wietecha's commitment to providing excellent clinical care, he believes in the importance of being immersed in his community. He was previously a board member of Waterville's Community Dental Center and he has been active with the Mid-Maine Chamber of Commerce for many years. He has also been a board member and longtime supporter of The McGrath Pond Salmon Lake Association (MPSLA) which helps preserve and protect the two lakes. Through his involvement, Dr. Wietecha has made many professional connections with other community members serving in the same capacity. Dr. Wietecha has received both Fellowship and Mastership awards from the Academy of General Dentistry (AGD) and a Fellowship award in the International Congress of Implantology (ICOI). Continuing educational programs that Dr. Wietecha has been involved with over the years include The Dawson Academy, The Misch Implant Institute, Spear Education and The New England Mastertrack. Dr. Wietecha has always believed in the philosophy of, "we stand on the shoulders of those who have come before us." Just like Dr. Laliberte was a mentor for Jay, Dr. Wietecha is now in the role of mentoring his two younger partners, Dr. Vayanos and Dr. Dumont. Jay continues to enjoy his passions of water skiing/wakeboarding as well as surfing and snow skiing here in Maine. He has been fortunate to be able to share these interests and everything else that Maine has to offer with his family – his fiancé Cassie and her son Blake and daughter Ellie.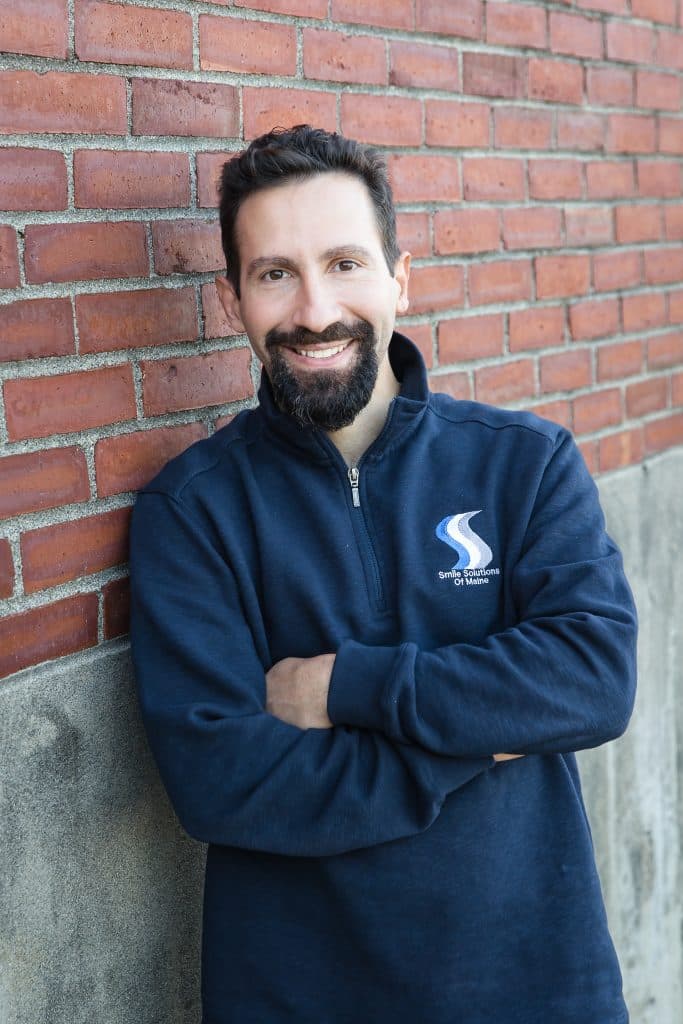 Dr. Peter G. Vayanos, DMD
Dr. Peter G. Vayanos was born and raised in Athens, Greece. Peter came to the United States in 1997. After finishing his undergraduate degree, Peter moved to Boston, Massachusetts to attend Tufts Dental School in 2005. During his senior year, Peter completed his five-week externship at the VA Hospital in Togus, Maine. His interest in moving to Maine peaked during that time, and Peter realized he wanted to pursue a life in rural Maine and serve communities where dentists were in high demand. He graduated from Tufts Dental School in May of 2009 and was married a month later.  He and his wife moved to Maine that July and he returned to the VA Hospital to complete his Advanced Education in General Dentistry (AEGD). From this, he was able to gain valuable experience placing and restoring implants and advanced surgical procedures. Peter is a member of the American Dental Association (ADA) and president of the Maine Academy of General Dentistry (MAGD). He completed the Dawson Academy core curriculum, which focuses on how the joint, muscles and teeth work together.  This approach has helped Peter deliver predictable and long term results while restoring his patients' teeth.  Peter is also currently enrolled in a five year Mastership program organized through the AGD Academy (MAGD).
Peter's passion is esthetic dentistry and to restore teeth following the biomimetic principle. This biomimetic principle has taken restoring teeth to a higher level by using tints, opaques, and multiple layers of composite material that can create a closer to natural result. Peter has already taken multiple classes at the Cosmedent's headquarters in Chicago, who are pioneers on this biomimetic approach. His goal is to preserve natural tooth structure by rebuilding worn teeth or improving the esthetics and giving back people's smile. He believes that everyone deserves to smile and there are affordable options for everyone.
Peter feels fortunate to have great mentors and partners at Smile Solutions of Maine. When Peter is not working, he enjoys reading, and maintaining his small farm. He loves spending time with his wife and three children who enjoy the outdoors. Peter's goal is to continue advancing his dental education with courses that target esthetic dentistry, implants, and complete dentistry.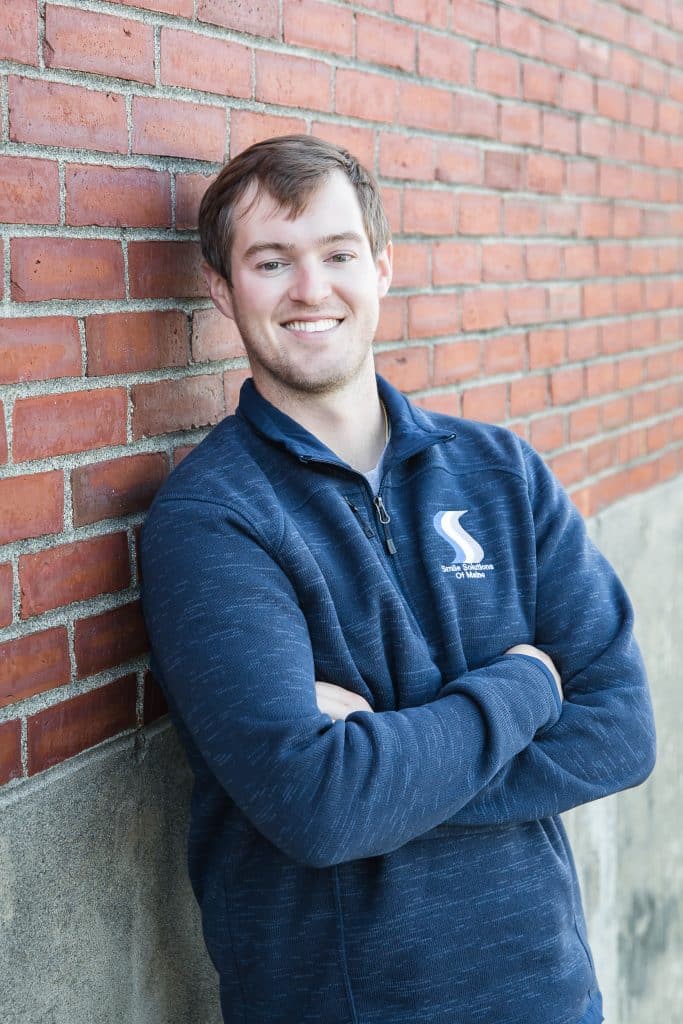 Joseph Dumont, DDS
Dr. Joseph Dumont was born and raised in Oakland, Maine. He was a patient of Smile Solutions of Maine for more than 20 years before joining the team. Joe completed his undergraduate education at the University of Maine where he majored in chemistry and minored in pre-medical studies and math. Upon graduation, Joe was accepted to Dalhousie University Faculty of Dentistry in Halifax, Nova Scotia, Canada. This is where he earned his Doctor of Dental Surgery degree. Joe's interests in dentistry focus on using modern technologies to improve the dental experience for both patients and dental professionals. He has mastered the use of 3D scanners, cone beam CT, digital radiography, and the use of the newest dental materials to provide patients with the best results. Outside of dentistry, Joe has a passion for everything outdoors. The Maine outdoor life has always been appealing to him, and he plans to do a lot of exploring with his dog Fred in the upcoming years. His other interests include golf, fishing, disc golf, baseball, music, and traveling.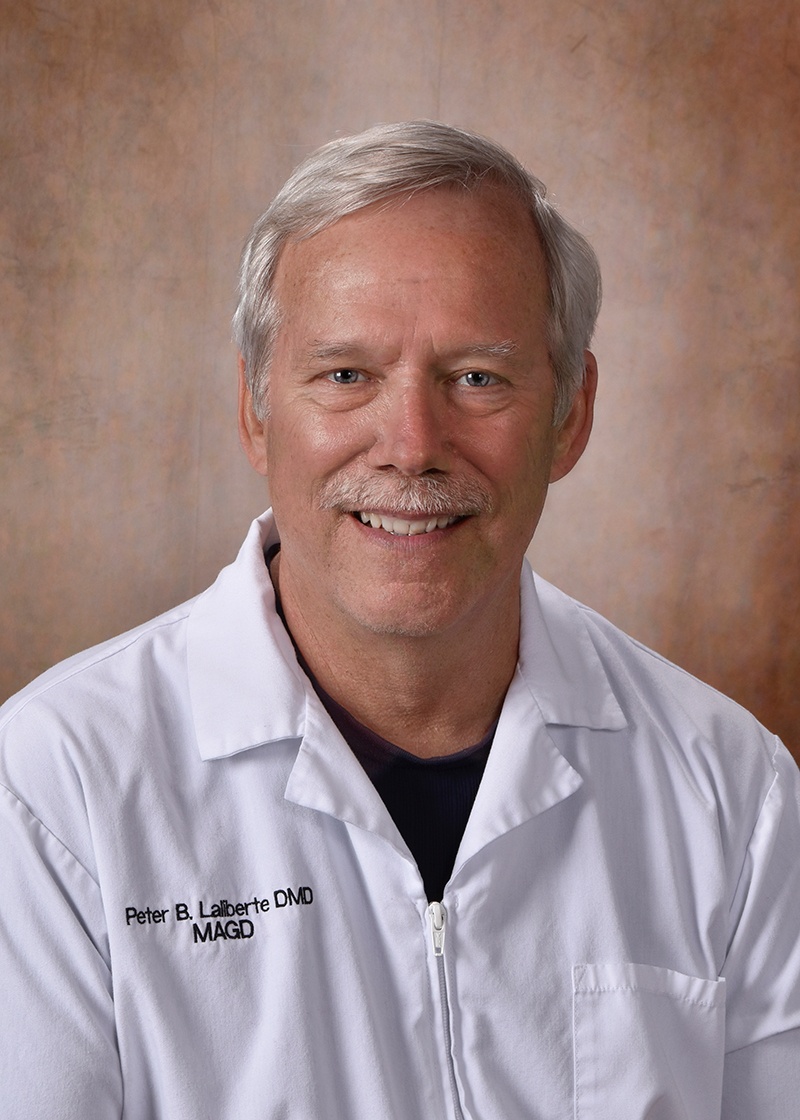 Dr. Peter Laliberte, DMD
Dr. Peter Laliberte was raised in Waterville, ME and attended the local public school system. Peter received his undergraduate education at the University of Maryland from 1969 to 1972. There, he majored in zoology and was a founder of the college ski team. Accepted early to Tufts University School of Dental Medicine, he entered a three-year accelerated dental program graduating as an award recipient. Dr. Laliberte then began a one-year general practice residency at Eastman Dental Center in Rochester, NY. During his residency, he participated in clinical and intensive didactic activities as well as engaged in research focused on the effects of Titanium Tetraflouride on dentin acid dissolution, the joint findings of which were reported internationally. Dr. Laliberte opened his practice in August of 1976 in Waterville, ME. He has been actively involved in continuing education and service, both in his field and in his community. Peter is a founder and past president of the Kennebec Valley Dental Study Club and the past president of the Maine Academy of General Dentistry (MAGD). As editor of the Academy's newsletter, circulation was expanded, and two national awards were achieved. In 1998, Peter was honored as a Master of the Academy of General Dentistry and in 2004 he received a fellowship in the International Congress of Oral Implantology (ICOI) for his continued study of dental implants. Throughout his professional career, Dr. Laliberte's life has always revolved around his family, love for the outdoors, and sports activities. In his youth, he began participating in ski racing, sailing, and golf. Peter continues to enjoy these interests and many others today. His love for nature has been adopted by his sons. Together they were able to share many years of hiking, camping, fishing and hunting before Scott's passing. Peter and Douglas, a practicing orthodontist, continue this legacy together. Dr. Laliberte's emphasis on excellence is evident, especially in his practice of dentistry. He fosters modern, new age facilities in his efforts to serve all the needs of his patients in a caring, gentle manner. Peter is dedicated to passing his knowledge and skills to his succeeding partners. Drs. Wietecha and Vayanos are exceptionally talented and they focus carefully on each patient. Together, the doctors are dedicated to guiding the gifted Central Maine native, Dr. Joseph Dumont, in his dental journey. Peter completed clinical practice in August 2017 after 41 years chair-side. He currently provides consultation and clinical coaching services to Smiles Solutions of Maine. It is with pleasure that Dr. Laliberte embarks part-time upon this new path of teaching, nurturing, and developing the team members and doctors of Smile Solutions. He eagerly looks forward to spending more time with his wife Jane, traveling, walking and working the Maine North Woods, spending time with their children and grandchildren, and enjoying some winter warmth in Florida.